QSTrader is in an "alpha" state at the moment and should only be used for exploratory backtesting research and/or development within a larger system.
The installation procedure is a little more involved than a standard Python package as it has not yet been added to the Python package repository.
Ubuntu Linux (14.04 LTS or 16.04 LTS) is the recommended platform on which to install QSTrader, but it will also work on Windows or Mac OSX under the Anaconda distribution.
For those that wish to create their own virtual environment, the following steps are necessary to run a basic Buy And Hold strategy.
An example virtual environment directory ~/venv/qstraderp3 has been used for this instance. If you wish to change this directory then re-name it in subsequent instructions below.
The following steps will create a virtual environment directory with Python 3 and then activate the environment:

$ mkdir -p ~/venv/qstraderp3
$ cd ~/venv/qstraderp3
$ virtualenv --no-site-packages -p /usr/bin/python3 .
$ source ~/venv/qstraderp3/bin/activate

At this point it is necessary to use pip to install QSTrader as a library and then manually install the requirements. The following steps will take some time as QSTrader relies on NumPy, SciPy, Pandas, Matplotlib as well as many other libraries and hence they will all need to compile:

$ pip install git+git://github.com/mhallsmoore/qstrader.git
$ pip install -r https://raw.githubusercontent.com/mhallsmoore/qstrader/master/requirements.txt

Now that the library itself and requirements have been installed it is necessary to create the default directories for the data and output. In addition it is possible to download the necessary data and example code to run a simple backtest of a Buy And Hold strategy on the S&P500 total return index:

$ mkdir -p ~/qstrader/examples ~/data
$ cd ~/data
$ wget https://raw.githubusercontent.com/mhallsmoore/qstrader/master/data/SP500TR.csv
$ cd ~/qstrader/examples
$ wget https://raw.githubusercontent.$ com/mhallsmoore/qstrader/master/examples/buy_and_hold_backtest.py 

Finally, we can run the backtest itself:

$ python buy_and_hold_backtest.py

Once complete you will see performance charts indicating:
Equity curve
Period returns
Drawdown
The chart will look similar to: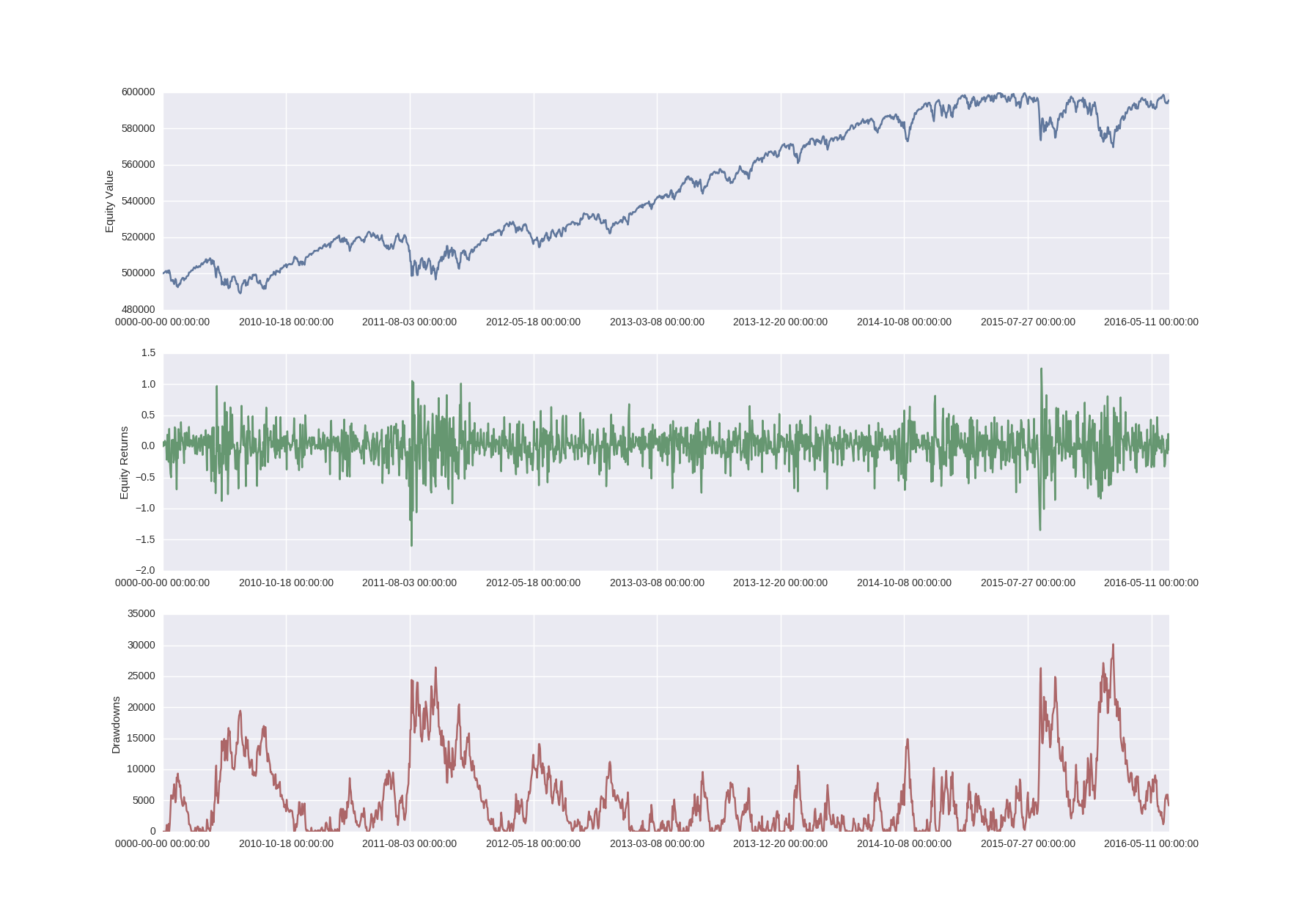 The project is constantly being developed, so unfortunately it is likely that the current API will experience backwards incompatibility until a mature beta version has been produced.
If you have any questions about the installation then please feel free to email support@quantstart.com.
If you notice any bugs or other issues that you think may be due to the codebase specifically, feel free to open a Github issue here: https://github.com/mhallsmoore/qstrader/issues